Jarkko Kemppainen, CTO, Symbio Global
"It is important that you get to be yourself here. We are a house full of Engineers, we have invested in things that make a customer want to trust us."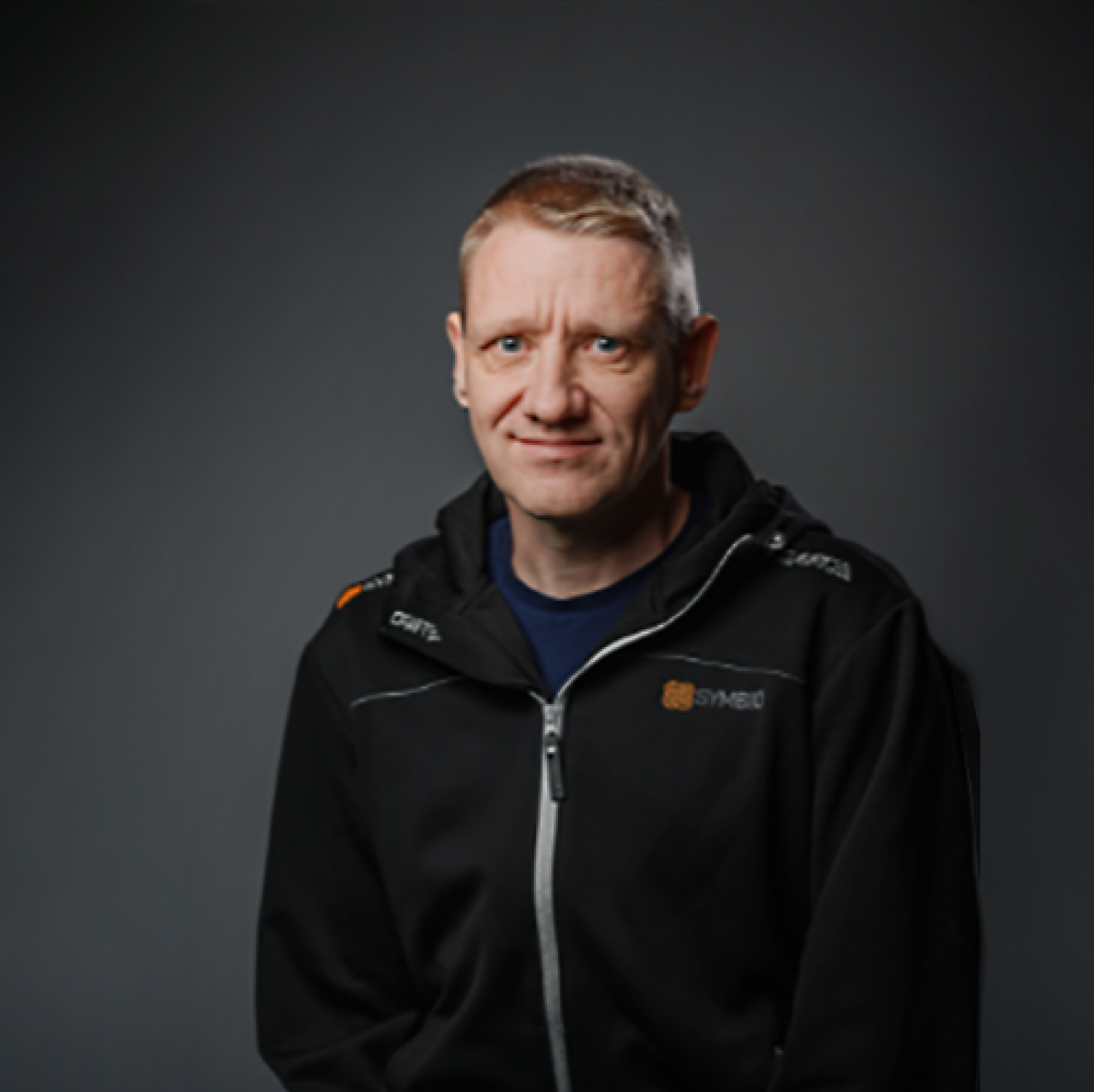 Jarkko Kemppainen has a long history with Symbio and he has seen the changes and development of the company during these years. Now coming up to his 15th year at Symbio, Jarkko currently works as the CTO of Symbio Global. His main goal is to build Symbio's technical knowledge and to roadmap for the future. He follows closely what happens in the technical world globally, aims to be proactive and solution oriented, and to bring technological ideas and solutions for Symbio's customers that they may not have even heard of yet. Furthermore, he works as the Technical Lead for Symbio's parent company VXI. In this role, he is involved with several projects that aim to bring technological advances to the company when compared to competitors on the market.
Jarkko's background is from Nokia, and his first role at Symbio was a Business Development oriented role where his goal was to find new business opportunities for the company. Later, he was involved with presales, combining his technical and business knowledge with new cases globally. In 2013, Jarkko was chosen as the Head of Software Services Line, and he oversaw Finland's software team members.
A couple of years later, Jarkko got to experience Symbio's international operations more heavily, as he had the chance to spend a year at Symbio's USA office, where he worked as a Solution Architect. After returning to Finland, Jarkko was involved in automotive products, mainly focusing on Symbio's Elysian which was at its early stages and Jarkko's work was to plan the basics of what Elysian needed to be.
Jarkko's role has always involved being close to the customer and one of the things he enjoys most at his work are the success stories there. He has witnessed and has been a part of creating customer relationships that have evolved into partnerships, after a small resourcing case as a starting point. He is extremely proud of Symbio's good reputation, especially in the automotive industry, and highlights that it is team effort that has made this possible. When working with his customers, Jarkko highlights that it is important to understand customer's need and why they are interested in using an outside partner to create the product or service to support their business. This way, it is possible to create an offer to answer their needs in the most effective way.
When asked how Jarkko would describe Symbio's culture, he has the following to say: "It is important that you get to be yourself here. We are a house full of Engineers, we have invested in things that make a customer want to trust us. We can be proud of that, we have great processes and tools. We can also be honest with our customers, and if something is going wrong; we can give reasonings with logic and sense. Our customers work with us to benefit from our skills and views. In a work environment, if everyone has the courage to bring up issues and be themselves, then that will take you far."
To balance his work, Jarkko has several interests, including sport and music to name a few. He has come to see by experience that sleep and exercise are important to let your mind and body rest. Jarkko has had an interest in triathlons for many years and last year, he also got into music as he has been learning to play the guitar and piano online, as well as learning to use music creation programs. In addition to this, Jarkko has started his doctorate studies at the University of Oulu this fall with Biomimetics and Intelligence Systems Group as his major. During his research, Jarkko will be looking at themes such as digital twins, artificial intelligence and machine learning.
08.02.2022 | Career stories